I have some awesome bloggy friends who have been so sweet to pass along some very sweet awards to lil' ol' me. Thank you! I'm touched. And now to show off my goodies, mwahaha!
The incomparably talented Three Under Two at
Lit and Laundry
was kind enough to bestow this on me: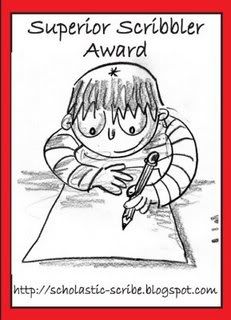 The rules ask that we link to the giver, link to the original post
here
, and pass it along to 5 more bloggers. So here goes:
1) Ronnica at
Tale of a Kansas Girl

2) Laura C at
Laura's Mommy Journal
3) Theresa at
Boston Dish

4)
Snickollet
5)
WriterDad
___________________
Bloggy award number two, from the very sweet and wonderfully prolific poster
Melodie at Me & My Girls
:
I'm not sure how creative I am, though my spelling is certainly kreativ from time to time!
I have to list six things that make me happy, and then pass the award along to six more bloggers. So, here goes...
Six Things that Make Me Happy
:
1) My family: TK, the boys, parents, grandparent, siblings, all of them.
2) Reese's Peanut Butter cups (darn this Halloween candy! And how come the wii fit doesn't have "Halloween candy" as one of the choices when you have to explain why you've gained weight?)
3) Good books
4) Friends
5) Crisp, cold, sunny days like today
6) Heroes (yay Mondays!)
Okay, some of that was a bit shallow. Ah well! Now to pass it along:
1) Nancy at
The Zimmer Zoo
2) Epicurean at
Joie de Manger

3)
Goddess in Progress
4) Amnesia at
Loss of Memory
5)
American in Norway
6) Mary Ellen at
Snacks, Please

_______________
And last but not least, another award from a fun and unbelievably prolific poster (gosh, I struggle for NaBloPoMo to post once a day, where do you get the ideas for multiple posts a day???),
Nancy at The Zimmer Zoo
. Thank you Nancy, even if it took me weeks to post this!
The award is written in Portuguese. Since I only know a little bit of Portuguese, I'm going to have to trust that this is an accurate description of it.
The Snazzy Blog Award
This blog invests and believes the PROXIMITY - nearness in space, time and relationships!
These blogs are exceedingly charming. These kind bloggers aim to find and be friends. They are not interested in prizes or self-aggrandizement. Our hope is that when the ribbons of these prizes are cut, even more friendships are propagated. Please give more attention to these writers! Deliver this award to eight bloggers who must choose eight more and include this cleverly-written text into the body of their award.
Can I tell you how much I love that it's "cleverly-written" text? Well, here goes the awarding:
1) Three Under Two at
Lit and Laundry
2) Melodie at
Me & My Girls
3)
Two Moms and A Baby
4) Giovanna at
Giovanna Diaries

5)
VP of Domestic Affairs

6) Rhonda at
Hannah & Sophie: Watch Us Grow
7)
Multiple Madness
8) Epicurean at
Joie de Manger
__________
Whew!
__________
Current NaNo Word Count: 39,404. I know, I didn't make it to 40k last night. But I did watch Heroes, so it was a fair trade.
Current NaNo Attitude: Starting to see the light at the end of the tunnel! I'm hoping to reach 50k by the end of this weekend. We'll see...